Erecting the system of vertical finical equalization in Ukraine
Keywords:
interbudget relations, vertical financial alignment, local budgets
Abstract
The article analyzes range of problems related to the erection and development of vertical financial equalizing on the background of processes that have triggered after Ukraine acquired its sovereignty. The basic stages and trends of the development are detected for the vertical financial equalizing in Ukraine, which essentially corresponded to the changes in arrangement of inter-budget relations. It is proved that the currently available trends in the development of inter-budget relations in Ukraine have been associated with the stages of vertical financial equalizing in Ukraine. The current system for financial vertical equalization in Ukraine is self-contradictory and slows down social and economical development of the country. Taking this into account the proposals were established as regards the main approaches to further reforming of the system of vertical financial equalization in Ukraine in terms of its shifting to the market economy, setting budget laws of the country in conformity to the legislation on the structure of executive power and local governments, as well as other acts of law determining their functions.
References
Луніна, І.О. Державні фінанси та реформування міжбюджетних відносин / І.О. Луніна. – К.: Наукова думка, 2006. – 432 с.
Юрій, С.І. Фінанси: Підручник / С.І. Юрій, В.М. Федосов. – К.: Знання, 2008. – 611 с.
Бюджетний кодекс України від 01.01.2011 р. – С. 21
Бюджетний моніторинг: аналіз виконання бюджету України за 2011 рік / І.Ф. Щербіна, А.Ю. Ридик, В.В. Зубенко, І.В. Самчинська [та ін.]; ІБСЕД, Проект «Зміцнення фінансової ініціативи»,USAID. – К., 2011.
Волохова, І.С. Міжбюджетні відносини в Україні: сучасний стан та перспективи розвитку / І.С. Волохова. – Одеса: Атлант, 2010. – 233 с.
Шишко, О. Удосконалення системи фінансового вирівнювання в Україні з урахуванням зарубіжного досвіду / О. Шишко // Збірник наукових праць НДФІ. – 2007. − No 2 (39). – С. 122–131.
Яценко, Ю.О. Теоретичні основи державної політики фінансового вирівнювання / Яценко Ю.О. // Економіка та держава. – 2011. – No 2. – С. 57–61.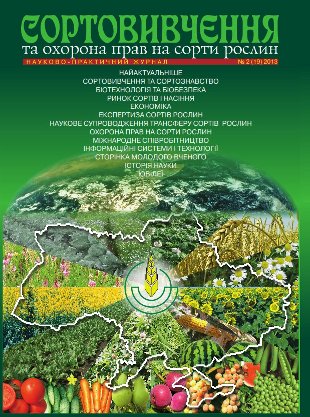 Downloads
How to Cite
Козенко, А. О., Дроща, П. В., & Данюк, Т. А. (2013). Erecting the system of vertical finical equalization in Ukraine. Plant Varieties Studying and Protection, (2(19), 78–81. https://doi.org/10.21498/2518-1017.2(19).2013.58589
License
Copyright (c) 2016 Plant varieties studying and protection
This work is licensed under a Creative Commons Attribution-ShareAlike 4.0 International License.
Our journal abides by the CREATIVE COMMONS copyright rights and permissions for open access journals.
Authors, who are published in this journal, agree to the following conditions:
1. The authors reserve the right to authorship of the work and pass the first publication right of this work to the journal under the terms of a Creative Commons Attribution License, which allows others to freely distribute the published research with the obligatory reference to the authors of the original work and the first publication of the work in this journal.
 2. The authors have the right to conclude separate supplement agreements that relate to non-exclusive work distribution in the form in which it has been published by the journal (for example, to upload the work to the online storage of the journal or publish it as part of a monograph), provided that the reference to the first publication of the work in this journal is included.