Inheritance of Quantitative Characteristics F2 of Three-Hybrid Crossing of Winter Rye (Secale cereale L.) under Different Environmental Conditions.
Keywords:
успадковування кількісних ознак, тригібридне схрещування, генотипна мінливість ознак, генотипсередовище
Abstract
Genetic and statistical analyzes of ten quantitative characteristics inheritance of reciprocal populations F2 of three-hybrid crossing by plant height, leaf blade electroidy and absence of glaucosity on the plants of Winter Rye in three breeding institutions – Nosivskiy Variety Testing Station (VTS), Verhnianskiy VTS and Volynskiy Institute APV. Major portion of phenotype variation has been determined by environmental factors. Genotype variability of those characteristics is predetermined by effects of domination and epitasis, so the breeding aimed at acquirement of heterosis effect when ZKZ (ЗКЗ) and SKZ (СКЗ) are applied is expected to be promising.
References
Cкорик, В. В. Сопряженность варьирования количественных признаков озимой ржи. / В. В. Скорик. // Тезисы докладов 111 Всесоюзного совещания по селекции, семеноводству и сортовой агротехнике озимой ржи. – Москва: Ротапринт ВАСХНИЛ, 1974. – 20 с.
Скорик, В. В. Эффективность отбора по крупности зерна у озимой ржи. / В. В. Скорик. // Селекция и семеноводство. – К.: Урожай, 1975. – Вып. 31. – С. 8– 10.
Smith, H. H. Recent studies on Inheritance of quantitative Characters in Plants./ H. H. Smith. – Bot. Rev., 1944. – vоl. 10, No 6. – 340 p.
Литун, П. П. Некоторые вопросы определения коэффициента наследуемости при селекции сельскохозяйственных растений. / П. П. Литун. // Селекция и семеноводство. – К.: Урожай, 1969. – Вып. 12. – С. 76–82.
Драгавцев, В. А. Пути и принципы выявления малых мутаций у растений. / В. А. Драгавцев. // Индуцированный мутагенез у растений. – Таллин: Изд-во АН ЭССР, 1972. – С. 47–55.
Мошкин, В. А. Роль показателей изменчивости и наследуемости в повышении эффективности отбора у клещевины. / В. А. Мошкин, И. К. Сачли. // Селекция и семеноводство масличных культур. – Краснодар: Всес. НИИ масличных культур, 1972. – No 7. – С. 198 –203.
7. Скорик, В. В. Спадкування морфологічних і кількісних ознак F1 від схрещування донорів з відмінними селекційними ознаками жита озимого (Secale cereale). / В. В. Скорик, І. М. Ляшко, С. С. Неїжпапа [та інші]. // Сортовивчення та охорона прав на сорти рослин, 2009. – No 2 (10). – С. 27–35.
Рокицкий, П. Ф. Биологическая статистика. / П. Ф. Рокицкий. – Минск: Высшейшая школа, 1973. – 6 изд. испр. – 320 с.
Рокицкий, П. Ф. Введение в статистическую генетику. / П. Ф. Рокицкий. – Минск: Высшейшая школа, 1974. – 448 с.
Меркурьева, Е. К. Биометрия в селекции и генетике сельскохозяйственных животных. / Е. К. Меркурьева. – Москва: Колос, 1970. – 119 с.
Stahl W., Rasch D., Siler R., Vahal J. / Populations genetic fur Tierzuchter. – Berlin-Prag, 1969. – 439 p.
Брюбейкер, Дж. Л. Сельскохозяйственная генетика. / Дж. Л. Брюбейкер. – Москва, 1966. – 96 с.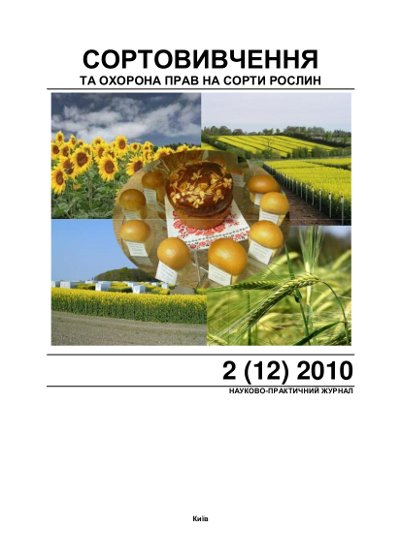 Downloads
Section
ЗДОБУТКИ ТА ПРОБЛЕМИ
License
Copyright (c) 2016 Plant varieties studying and protection
This work is licensed under a Creative Commons Attribution-ShareAlike 4.0 International License.
Our journal abides by the CREATIVE COMMONS copyright rights and permissions for open access journals.
Authors, who are published in this journal, agree to the following conditions:
1. The authors reserve the right to authorship of the work and pass the first publication right of this work to the journal under the terms of a Creative Commons Attribution License, which allows others to freely distribute the published research with the obligatory reference to the authors of the original work and the first publication of the work in this journal.
 2. The authors have the right to conclude separate supplement agreements that relate to non-exclusive work distribution in the form in which it has been published by the journal (for example, to upload the work to the online storage of the journal or publish it as part of a monograph), provided that the reference to the first publication of the work in this journal is included.