Genetics characteristics donor dominance short stem and large grain winter rye (Secale cereale L.)
Keywords:
донор домінантної короткостеблості, крупність зерна жита озимого, генерації рослин, алелі генів, гомозиготний стан, кореляційний аналіз, фенотипічні і генотипні мінливості
Abstract
By means of directed selection during 39 generations of Rye plants bearing the highest expression of short stem in combination with largest size of grain, a donor of dominant short stem and recessive complimentary or epistatic large size grain has been obtained. Dependence of Rye grain size on two complimentary or independent alleles of genes in homozygote state, namely lg (large grain) and tg (thick grain) has been first time reported. Short stem and recessive grain size donor is homozygotic by the characteristic "Short upper internode", albeit hybridologic analyzes on dominance-recessivity has not been performed. Correlative analyzes to breeding purposes is only applicable to perform by determining relations between characteristics in generations. In order to process the breeding strategy phenotype and genotype variability shall be assessed in the source material, as well as coefficients of multiple and pair correlation of desired breeding characteristics. On the base of parameter indexes to develop plans of selections and directed crossings with predicting the disjointing results in the next and subsequent generations of hybrids and determine strategy and tactic of for the development of desired characteristics in breading. This is the only way from the art to the science.
References
Жученко, А. А. Экологическая генетика культурних растений. / А. А. Жученко. – Кишинев: Штиинца, 1980. – 588 с.
Брежнєв, Д. Д. Национальный генофонд растенй СССР для селекции. / Д. Д. Брежнєв. // Общая генетика. – М., 1978. – Т. 5. – С. 5-87.
Яшовский, И. В. Теоретические основы и практическое использование насыщающих скрещиваний в селекции растений. / И. В. Яшовский. // Использование насыщающих скрещиваний и самонесовместимости в селекции сельскохозяйственных растений. – Киев: Наукова думка, 1975. – С. 4 –15.
Мережко, А. Ф. Проблема доноров в селекции растений. / А. Ф. Мережко. – Санкт-Петербург, 1994. – 231 с.
Калиненко, И. Г. Селекция озимой пшеницы: результаты, перспективы, проблемы, поиск. / И. Г. Калиненко. // Селекция и семеноводство. – 1986. – No 6. – С. 2–7.
Деревянко, В. П. Актуальные вопросы гетерозисной селекции озимой ржи. / В. П. Деревянко, Д. К. Егоров. – Х., 2008. – 152 с.
Рокицкий, П. Ф. Биологическая статистика, изд. 3-е испр. / П. Ф. Рокицкий. // Минск: Высшейшая школа, 1973. – 320 с.
Рокицкий, П. Ф. Введение в статистическую генетику. / П. Ф. Рокицкий. – Минск: Высшейшая школа, 1973. – 320 с.
Брюбейкер, Дж. Л. Сельскохозяйственная генетика. / Дж. Л. Брюбейкер. – М.: Колос, 1966. – 223 с.
Шталь, В. Популяционная генетика для животноводов-селекционеров. / В. Шталь, Д. Раш, Р. Шиллер, [и др.]. – М.: Колос, 1973. – 439 с.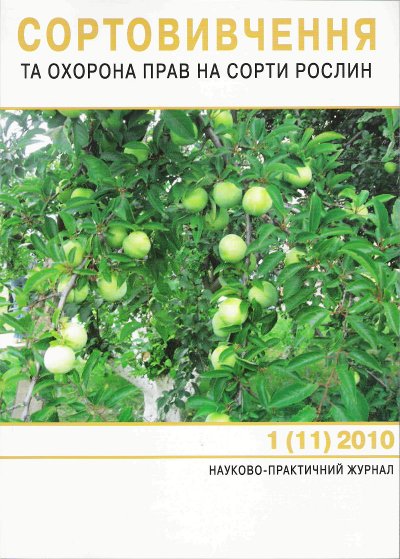 Downloads
Section
ЗДОБУТКИ ТА ПРОБЛЕМИ
License
Copyright (c) 2016 Plant varieties studying and protection
This work is licensed under a Creative Commons Attribution-ShareAlike 4.0 International License.
Our journal abides by the CREATIVE COMMONS copyright rights and permissions for open access journals.
Authors, who are published in this journal, agree to the following conditions:
1. The authors reserve the right to authorship of the work and pass the first publication right of this work to the journal under the terms of a Creative Commons Attribution License, which allows others to freely distribute the published research with the obligatory reference to the authors of the original work and the first publication of the work in this journal.
 2. The authors have the right to conclude separate supplement agreements that relate to non-exclusive work distribution in the form in which it has been published by the journal (for example, to upload the work to the online storage of the journal or publish it as part of a monograph), provided that the reference to the first publication of the work in this journal is included.