Genetic Characteristic of Dominant Ultra Short Stem and Wax Coating Absence for Winter Rye (Secale cereale L.)
Keywords:
жито, генетичні параметри, короткостеблість, восковий покрив
Abstract
By means of directed hybridization and selection, a new donor of Winter Rye with combination of ultra short stem and absence of wax coating has been synthesized. Markings was offered for the first time for dominant genes of ultra short stem characteristic – HI-3HI-3, and for recessive genes of absence of wax coating characteristic – wcwc. Determination is made of genetic variability, coefficients of inheritance, phenotype and genotype correlation coefficients, on the basis of which a selection strategy by ten quantitative characteristics is proposed. Polypheny and cohesion effects were established. Under certain conception, strategy and tactic of improvement by breeding of Winter Rye characteristics, determination of genetic and statistic parameters between traits of parents and the offspring is required.
References
Мережко, А. Ф. Проблема доноров в селекции растений. / А. Ф. Мережко. – Санкт-Петербург, 1994. – 129 с.
Бороевич, С. Принципы и методы селекции растений. / С. Бороевич. – М.: Колос, 1984. – 344 с.
Яшовский, И. В. Теоретические основы и практическое использование насыщающих скрещиваний в селекции растений. / И. В. Яшовский. // Использование насыщающих скрещиваний и самонесовместимости в селекции сельскохозяйственных растений. – К.: Наукова думка, 1975. – С. 4–15.
Зарубайло, Т. Я. Генетические предпосылки создания продуктивных сортов зерновых культур. / Т. Я. Зарубайло. // Труды. по прикладной ботанике, генетике и селекции. – Л., 1976. – Т. 58, вып. 1. – С. 3–11.
Деревянко, В. П. Актуальные вопросы гетерозисной селекции озимой ржи. / В. П. Деревянко, Д. К. Егоров. – Х., 2008. –152 с.
Рокицкий, П. Ф. Биологическая статистика, – изд. 3-е, испр. / П. Ф. Рокицкий. – Минск: Высшейшая школа, 1973. – 320 с.
Рокицкий, П. Ф. Введение в статистическую генетику. / П. Ф. Рокицкий. – Минск: Высшейшая школа, 1974. – 448 с.
Брюбейкер, Дж. Л. Сельскохозяйственная генетика. / Дж. Л. Брюбейкер. – М.: Колос,1966. – 223 с.
Меркурьева, Е. К. Биометрия в селекции и генетике сельскохозяйственных животных. / Е. К. Меркурьева. – М.: Колос, 1970. – 423 с.
Шталь, В. Популяционная генетика для животноводов-селекционеров. / В. Шталь, Д. Раш, Р. Шиллер [и другие]. – М.: Колос, 1973. – 439 с.
Вейр, Б. Анализ генетических данных. / Б. Вейр. – М.: Мир, 1995. – 400 с.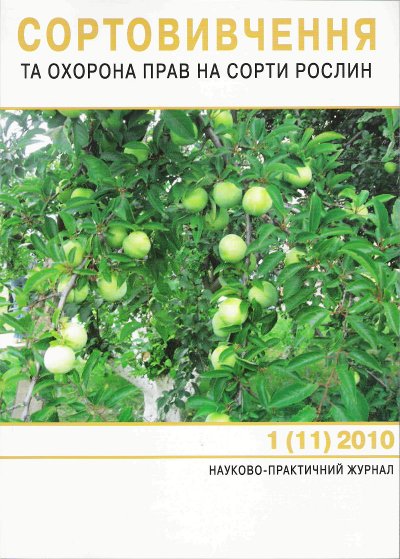 Downloads
Section
ЗДОБУТКИ ТА ПРОБЛЕМИ
License
Copyright (c) 2016 Plant varieties studying and protection
This work is licensed under a Creative Commons Attribution-ShareAlike 4.0 International License.
Our journal abides by the CREATIVE COMMONS copyright rights and permissions for open access journals.
Authors, who are published in this journal, agree to the following conditions:
1. The authors reserve the right to authorship of the work and pass the first publication right of this work to the journal under the terms of a Creative Commons Attribution License, which allows others to freely distribute the published research with the obligatory reference to the authors of the original work and the first publication of the work in this journal.
 2. The authors have the right to conclude separate supplement agreements that relate to non-exclusive work distribution in the form in which it has been published by the journal (for example, to upload the work to the online storage of the journal or publish it as part of a monograph), provided that the reference to the first publication of the work in this journal is included.