Genetic and Statistical Research of the Short Stem Erectoid Winter Rye Samples (Secale cereale l.)
Keywords:
донори короткостеблості, реципрокні схрещування, еректоїдна форма листкової пластинки, генетично-статистичний аналіз, спадковість селекційних ознак
Abstract
Outcomes of reciprocal crossings new Rye donor of super-short stem with electroidness Hl-3Hl-3elel and tall Rye Variety Viatka 2 are provided. The firs generation hybrids appeared to have a short stem with regular leaf blade. In the second generation the female parent effect of short stem domination was established, as well as complete domination of tall bushiness, long-spiked plants, increased number or grains in the ear. Weight of 100 grains in the ear made 22,79 і 29, 41% of the heterosis relative to the best parent. According to the results of the research of genetic and statistical parameters of F2 breeding characteristics plants with electoid leaf blade shape were selected.
References
Loomis R.S., Williams W.A. / Crop Science. – 1963, 3. – Р. 67 – 72.
Жученко, А. А. Экологическая генетика культурных растений (адаптация, рекомбиногенез, агробиоценоз). / А. А. Жученко. – Кишинев: «Штиинца», 1980. – 558 с.
Pendleton J.M. et al. / Agronjmy Journal. – 1968. – Vol. 60. – Р. 422 – 424.
Tanaka M., Icikawa S. – Australian Genetic, – 1968. – 60. – 229 р.
Рубин, Б. А. Проблемы физиологии в современном растениеводстве. / Б. А. Рубин. – М., 1979.
Скорик, В. В., Генетико-статистична характеристика нових різновисоких донорів короткостеблості озимого жита. / В. В. Скорик, Н. В. Скорик. // Цитологія і генетика. – 2003. – Т. 37, No 5. – С. 9-20.
Шелепов, В. В. Пшеница: история, морфология, биология, селекция. / В. В. Шелепов, Н. П. Чебаков, В. А. Вергунов [та інші]. – 2009 – 543 с.
Рокицкий, П. Ф. Биологическая статистика: изд. 3-е, испр. / П. Ф. Рокицкий. – Минск: Высшейшая школа, 1973, – 320 с.
Рокицкий, П. Ф. Введение в статистическую генетику. / П. Ф. Рокицкий. – Минск: Высшейшая школа, 1974. – 448 с.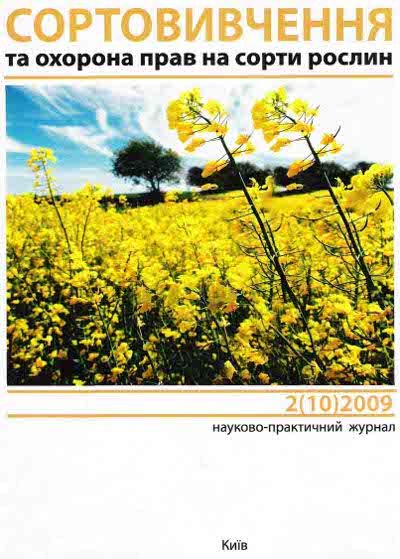 Downloads
Section
ЗДОБУТКИ ТА ПРОБЛЕМИ
License
Copyright (c) 2016 Plant varieties studying and protection
This work is licensed under a Creative Commons Attribution-ShareAlike 4.0 International License.
Our journal abides by the CREATIVE COMMONS copyright rights and permissions for open access journals.
Authors, who are published in this journal, agree to the following conditions:
1. The authors reserve the right to authorship of the work and pass the first publication right of this work to the journal under the terms of a Creative Commons Attribution License, which allows others to freely distribute the published research with the obligatory reference to the authors of the original work and the first publication of the work in this journal.
 2. The authors have the right to conclude separate supplement agreements that relate to non-exclusive work distribution in the form in which it has been published by the journal (for example, to upload the work to the online storage of the journal or publish it as part of a monograph), provided that the reference to the first publication of the work in this journal is included.