Induction of vegetable varieties protective mechanisms
Keywords:
овочеві культури, огірок, помідор, фунгіциди, бакові суміші, еліситори, пероноспороз
Abstract
Ability of poly-unsaturated fatty Arachidonic Acid and Micosan bio-fun-gicide with 3% h.c.s.(alkali extract of alkilofraiic glucans mushroom - Fomes fomentarius) to oppress the pathogens' parasitism on the vegetable crops is experimentally proved. There is also studied biological efficacy of fungicides and their tank blends on the cucumber crop.
References
Васюкова Н.И., Озерецковская О.Л. Биохимические механизмы специализации фитопатогена к растению-хозяину // Биохимические аспекты индуцированной устойчивости и восприимчивости растений. - 1991. - Т. 7. - С. 103-192.
Ковбасенко В.М. Застосування арахідонової кислоти на томаті // Вісник аграрної науки. - К., 1995. - No 4. - С. 14-15.
Тютерев С.Л. Научные основы индуцированной болезнеустойчивости растений. - С.-Пб., 2002. - 328 с.
Kuc Y Development and future direction of induced systemic resistance in plants //J. Crop protection. - 2000. - P. 853-861.
Metraux YP., Menwly P.H., Buchala A.Y, Caquoz Yl. Arachidonic acid induces local but not systemic synthesis of salicylic acid and confers systemic resistance in potato plants to Phytophthora infestans and Alternaria solani//Phytopathology. - 1995. - Vol. 85. -10. - P. 1219-1224.
Albersheim P. Oligosaccharins regulatory molecules // Accounts of Chemical. - 1992. - Vol. 25. - P. 77-83.
Boiler T. Chemoperception of microbial signals in plant cell // Ann. Prev. Plant Physiol. Plant Mol. Biol. - 1995. - 46. - P. 180-211.
Hahn M.G. Microbial Elisitors and Their Receptors in Plants // Ann. Rev. Phytopathol. - 1996. - 34. - P. 387-412.
Горовой Л.Ф. Индуцированная устойчивость и разработка препаратов нового поколения для защиты растений // Інтегрований захист рослин на початку XXI століття. - 2004.- С.161-169.
Ярош Н.П., Арасимович В.В., Ермаков И.А., Перуанский Ю.В. Определение активности ферментов и их ингибиторов // Методы биохимических исследований растений. - Л.: Высшая школа, 1987. - С. 36-84.
Петербургский А.В. Практикум по агрономической химии. Изд.6-е,перераб. и доп.- М.: Колос, 1968. - 496 с.
Мусієнко М.М., Ковбасенко Р.В., Ковбасенко В.М., Ковбасенко К.П. Вплив фунгіцидів на обмін азоту в рослинах // Вісник Київського національного університету імені Тараса Шевченка. - 2004. - 43. - С. 64-65.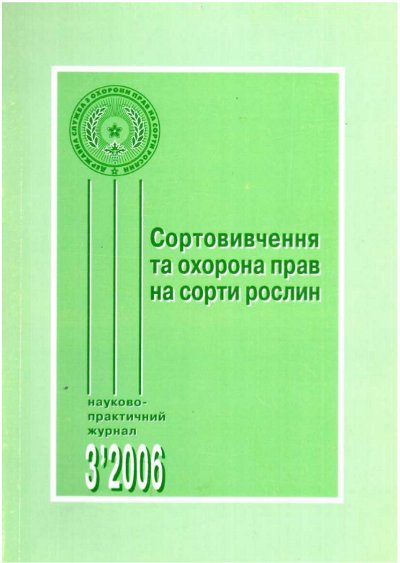 Downloads
How to Cite
Ковбасенко, В. М., Рябенька, Л. А., Корецький, А. П., Корецька, О. О., & Оніщенко, О. І. (2006). Induction of vegetable varieties protective mechanisms. Plant Varieties Studying and Protection, (3), 47–54. https://doi.org/10.21498/2518-1017.3.2006.67676
Section
ЗДОБУТКИ ТА ПРОБЛЕМИ
License
Copyright (c) 2016 Plant varieties studying and protection
This work is licensed under a Creative Commons Attribution-ShareAlike 4.0 International License.
Our journal abides by the CREATIVE COMMONS copyright rights and permissions for open access journals.
Authors, who are published in this journal, agree to the following conditions:
1. The authors reserve the right to authorship of the work and pass the first publication right of this work to the journal under the terms of a Creative Commons Attribution License, which allows others to freely distribute the published research with the obligatory reference to the authors of the original work and the first publication of the work in this journal.
 2. The authors have the right to conclude separate supplement agreements that relate to non-exclusive work distribution in the form in which it has been published by the journal (for example, to upload the work to the online storage of the journal or publish it as part of a monograph), provided that the reference to the first publication of the work in this journal is included.