New trends in protection of plant breeder's rights on the example of apple varieties: cultivars as trademarks, clubs and brands
Keywords:
apple cultivars, sports, open cultivar, managed cultivar, club cultivar, trade mark, brand, intellectual property
Abstract
Purpose. To analyse the world experience and current trends in protection of new apples varieties and plant breeders' rights.
Results. It takes up to 20 years to developed a new variety of apple trees from crossing, in addition to considerable material resources; another 5–10 years are spent on its introduction into a broad culture. After the licensing agreement, the cultivar owner receives royalties for each tree sold, but such a scheme presents risks for both cultivar owners and apple producers. Most of the time allotted for the protection of the variety may be exhausted before it becomes popular with consumers. To overcome the negative traits inherent in "open cultivars", new marketing mechanisms using "managed" or club cultivars are used. The cultivar owner obtains a USPP or PBR in a producing country. He usually also registers one or more trademarks in each of countries where fruit will be sold. Licensing agreements for tree propagation and fruit production are usually licensed to one or a few producers or marketers in a production territory along with rights to use a trademark for sales in one or more countries. In return, the cultivar owner receives an exclusivity payment, a royalty from each apple tree propagated, and a proportion of the fruit sale. The producer agrees to milestones for orchard establishment and fruit production and maintenance of quality standards. The advantage for growers is the ability to raise prices by limi­ting supply and the benefits of promoting apples in the market. Retailers are generally interested in registered varieties due to the higher selling prices and the potential for exclusivity of branded varieties. Due to the large volume of supply of many varieties, manufacturers consider new club varieties necessary for maintaining profitability. It is projected that in the near future the share of club varieties may increase from the current 5% to 15–20%.
Conclusions. The licensing of the trademark provides a marketer to build a brand that can contribute to a lengthy and indefinite exclusivity period of the cultivar with proper management of intellectual property and apple production and quality. Income on the use of trademark in fruit sales can have sustained and potentially larger to cultivar owner. Only apples of certain quality standards are sold under brand names at higher prices, increasing profitability and providing a more stable annual income for the producer. The efficiency of the brand system means that in the future, new apple varieties will be launched exclusively under their own brand, and the introduction of new varieties will bring greater benefits to producers and consumers.
Downloads
Download data is not yet available.
References
Оrliuk, О. P., & Sviatotzkyi, О. D. (Eds.). (2007). Pravo intelektualnoi vlasnocti [Intellectual property rights]. Кyiv: In Yure. [in Ukrainian]
Luby, J. J., & Bedford, D. S. (2015). Cultivars as consumer brands: Trends in protecting and commercializing apple cultivars via intellectual property rights. Crop Sci., 55(3), 2504–2510. doi: 10.2135/cropsci2014.10.0684
Brown, S. K., & Maloney, K. E. (2009). Making sense of new apple varieties, trademarks and clubs: Current status. New Yorker Fruit Quarterly, 17(3), 9–12.
Brown, S. K., & Maloney, K. E. (2013). An update on apple cultivars, brands and club-marketing. New Yorker Fruit Quarterly, 21(1), 3–9.
UNECE Standard FFV-50. Apples (2017). 2017 edition. New York & Geneva: United Nation.
Sansavini, S., & Gregori, R. (2019). Which distribution strategy will support new exclusive apple varieties: club, trade-mark, or free production? Chron. Horticult., 59(4), 7–13.
Fakhivtsi FAO proponuiut prosuvaty na zovnishnikh rynkakh yabluka Renet Symyrenka pid vlasnym brendom [FAO experts propose to promote 'Renet Symyrenka' fruit in foreign markets under its own brand]. (2019). Retrieved from https://fruit-ukraine.org/2019/01/29/fakhivtsi-fao-proponuiut-prosuvaty-na-zovnishnikh-rynkakh-iabluka-renet-symyrenka-pid-vlasnym-brendom/ [in Ukrainian]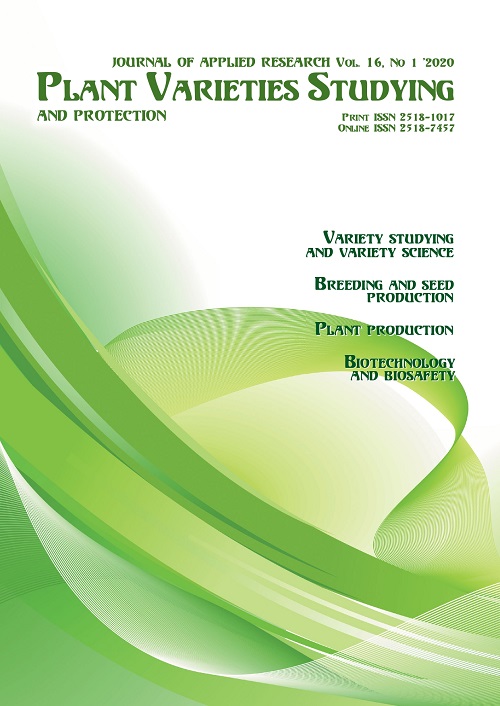 Downloads
How to Cite
Меженський, В. М., & Якубенко, Н. Б. (2020). New trends in protection of plant breeder's rights on the example of apple varieties: cultivars as trademarks, clubs and brands. Plant Varieties Studying and Protection, 16(1), 5–16. https://doi.org/10.21498/2518-1017.16.1.2020.201014
Section
VARIETY STUDYING AND VARIETY SCIENCE
License
Copyright (c) 2020 В. М. Меженський, Н. Б. Якубенко
This work is licensed under a Creative Commons Attribution-ShareAlike 4.0 International License.
Our journal abides by the CREATIVE COMMONS copyright rights and permissions for open access journals.
Authors, who are published in this journal, agree to the following conditions:
1. The authors reserve the right to authorship of the work and pass the first publication right of this work to the journal under the terms of a Creative Commons Attribution License, which allows others to freely distribute the published research with the obligatory reference to the authors of the original work and the first publication of the work in this journal.
 2. The authors have the right to conclude separate supplement agreements that relate to non-exclusive work distribution in the form in which it has been published by the journal (for example, to upload the work to the online storage of the journal or publish it as part of a monograph), provided that the reference to the first publication of the work in this journal is included.