Peculiarities of introduction of Lavandula vera D.C. into the culture in the Central Polissia of Ukraine
Keywords:
essential oil, onthomorphogenesis, reproduction methods, biochemical composition
Abstract
Purpose. Determining the assessment of the prospects and success of Lavandula vera D.C. introduction in the Central Polissia of Ukraine.
Methods. General scientific and special: morphological and descriptive, biometric, laboratory, field, biochemical.
Results. Based on the analysis of literary sources and experimental studies, the issues of distribution, onthomorphogenetic features, biochemical composition of plant materials and components of essential oils of the non-traditional aromatic plant L. vera were studied. During the individual development of L. vera plants, three periods (latent, pregenerative, and generative) and 6 age states of plants were noted: seeds, seedlings, juvenile, immature, virginal, and generative. It was revealed that seedling and vegetative propagation of lavender (separation of individual plants into parts) has advantages over seeds due to low field germination of seeds (5–10%). Plant raw materials of lavender, grown in the conditions of Ukrainian Polissia, are a source of organic substances, tannins, vitamins and macroelements.
Conclusions. Information on distribution, onthomorphogenetic and biochemical characteristics of the non-traditional aromatic plant L. vera indicates the prospects for its cultivation in the conditions of the Central Polissia of Ukraine as an aromatic, flavoring, essential oil, medicinal, melliferous, phytoncidal, and ornamental plant.
Downloads
Download data is not yet available.
References
Rakhmetov, D. B., Korableva, O. A., Stadnichuk, N. O., Smilianets, N. M., & Hlabets, V. Kh. (2003). Kataloh zavershenykh naukovykh rozrobok viddilu novykh kultur [Catalog of completed scientific developments of the department of new cultures]. Kyiv: Nora Druk. [in Ukrainian]
Rakhmetov, D. B., Stadnichuk, N. O., Korablova, O. A., Smilianets, N. M., & Skrypka, O. M. (2004). Novi kormovi, prianosmakovi ta ovochevi introdutsenty v Lisostepu i Polissi Ukrainy [New fodder, spice and vegetable introducers in the Forest-Steppe and Polissia of Ukraine]. Kyiv: Fitosotsiotsentr. [in Ukrainian]
Rabotyagov, V. D. (1983). Mathematical model of lavender productivity. Fiziologiya i biokhimiya kul'turnykh rasteniy [Physiology and Biochemistry of Cultivated Plants], 15(6), 566–571. [in Russian]
Rabotyagov, V. D., Bakova, N. N., Khlypenko, L. A., & Golu­beva, T. F. (1998). Efiromaslichnye kul'tury i pryanoaromaticheskie rasteniya dlya ispol'zovaniya v fitoterapii [Essential oil crops and aromatic plants for use in herbal medicine]. Yalta: N. p. [in Russian]
Svydenko, L. V. (2002). Biolohichni osoblyvosti i hospodarsko tsinni oznaky perspektyvnykh efirooliinykh roslyn v umovakh Khersonskoi oblasti [Biological features and economic-valuable tags perspective essential oil of plants in conditions of the Kherson area] (Extended Abstract of Cand. Biol. Sci. Diss.). Nikitsky Botanical Garden – The National Science Center of the NAAS of Ukraine, Yalta, Ukraine. [in Ukrainian]
Libus, O. K., Rabotyagov, O. D., Kut'ko, S. P., & Khlypenko, L. A. (2004) Efirnomaslichnye i pryanoaromaticheskie rasteniya [Essential oil and aromatic plants] (pp. 139–143). Kherson: Ailant [in Russian]
Malankina, E. L. (2007). Agrobiologicheskoe obosnovanie povysheniya produktivnosti efiromaslichnykh rasteniy iz semeystva yasnotkovye (Lamiaceae L.) v Nechernozemnoy zone Rossii [Agrobiological rationale for increasing the productivity of essential oil plants from the Lamiaceae L. family in the Non-Chernozem zone of Russia] (Extended Abstract of Cand. Biol. Sci. Diss.). Russian State Agrarian University – Moscow Timiryazev Agricultural Academy, Moscow, Russia. [in Russian]
Minarchenko, V. M. (2005). Likarski sudynni roslyny Ukrainy (medychne ta resursne znachennia) [Medicinal vascular plants of Ukraine (medical and resource value)]. Kyiv: Fitosotsiotsentr. [in Ukrainian]
Georgievskiy, V. P., Komissarenko, N. F., & Dmitruk, S. E. (1990). Biologicheski aktivnye veshchestva lekarstvennykh rasteniy [Biologically active substances of medicinal plants]. Novosibirsk: Nauka. [in Russian]
Kustova, S. D. (1987). Spravochnik po efirnym maslam [A guide to essential oils]. Moscow: Pishchevaya promyshlennost. [in Russian]
Yatsuk, H. F., Semeniv, O. O., Bihun, N. P., & Haran, I. Yu. (2012). Likarski zernovi, zernobobovi, oliini, efirooliini roslyny [Medicinal cereals, legumes, oilseeds, essential oils]. Ternopil: Navchalna knyha – Bohdan. [in Ukrainian]
Vinogradov, B., Vinogradova, N., & Golan, L. (Eds.). (2010). Aromaterapiya. Uchebnyy kurs [Aromatherapy. Training course]. Fultus Publ. [in Russian]
Popa, D. P. (1976). Vysshie terpenoidy rasteniy semeystva Gubo­ts­vetnykh [Higher terpenoids of plants of the Lamiaceae fami­ly]. Chisinau: Shtiintsa [in Russian]
Nosov, A. M. (2005). Lekarstvennye rasteniya [Medicinal plants]. Moscow: Eksmo. [in Russian]
Veres, K. (2007). Variability and biologically active components of some Lamiaceae species (Ph.D. Thesis). University of Szeged, Szeged, Hungary. Retrieved from http://doktori.bibl.u-szeged.hu/id/eprint/1081/1/Veres_Katalin_2007.pdf
Carović, Stanko K., Petek, M., Grdiša, M., Pintar, J., Bedeković, D., Herak Ćustić, M., & Satovic, Z. (2016). Medicinal plants of the family Lamiaceae as functional foods – a review. Czech J. Food Sci., 34(4), 377–390. doi: 10.17221/504/2015-CJFS
Cvijovic, V., Djukic, D., Mandis, L., Acamovic-Djokovic, G., & Pesakovic, M. (2010). Composition and antimicrobial activity of essential oils of some medicinal and spice plants. Chem. Nat. Compd., 46(3), 481–482. doi: 10.1007/s10600-010-9652-z
Salamone, A., Zizzo, G. V., & Scarito, G. (2006). The antimicrobial activity of water extracts from Labiatae. Acta Hortic., 723, 465–470. doi: 10.17660/ActaHortic.2006.723.67
Honcharenko, M., Radchenko, O., & Lytvynchuk, O. (2016). The antibacterial effect of the essential oils lavender and rosemary on the bacterial pathogen of black spot pepper Xanthomonas vesicatoria. Vìsnik Lʹvìvsʹkogo unìversitetu. Serìâ bìologìčna [Visnyk of the Lviv University. Series Biology], 71, 215–221. [in Ukrainian]
Lavrenova, G. V., & Lavrenov, V. K. (1997). Entsiklopediya lekar­st­vennykh rasteniy [Encyclopedia of Medicinal Plants] (Vol. 1). Donetsk: Donechchina. [in Ukrainian]
Lavrenova, G. V., & Onipko, V. D. (2004). Tysyacha zolotykh re- ­t­septov narodnoy meditsiny [A thousand golden recipes of traditional medicine]. St. Petersburg: Neva. [in Russian]
Rybak, G. M., Korableva, O. A., & Romanenko, L. R. (1993). Prob­lems of introduction of spicy-aromatic plants in the conditions of Polissya of Ukraine. In Ekologicheskie problemy introduktsii rasteniy na sovremennom etape: voprosy teorii i praktiki [Ecological problems of plant introduction at the present stage: issues of theory and practice]: Proc. Int. Sci. Conf. (Pt. 2, pp. 393–396). Krasnodar, Russia. [in Russia]
Balabas, G. M. (1965). Introdukciya lekarstvennykh, aromaticheskikh i tekhnicheskikh rasteniy [Introduction of medicinal, aromatic and technical plants]. Moscow: Nauka. [in Russian]
Bejdeman, I. N. (1974). Metodika izucheniya fenologii rasteniy i rastitel'nykh soobshchestv [Methodology for studying the phenology of plants and plant communities]. Novosibirsk: Nauka. [in Russian]
Serebryakov, I. G. (1964). Life forms of higher plants and their study. In Polevaya geobotanika [Field geobotany] (Vol. 3). Moscow: Izdatelstvo AN SSSR. [in Russian]
Ermakov, A. I., Arasimovich, V. V., & Smirnova-Ikonnikova, M. I. (1985). Metody biokhimicheskogo issledovaniya rasteniy [Me­thods of biochemical research of plants]. Leningrad: Kolos [in Russian]
Pochinok, Kh. N. (1976). Metody biokhimicheskogo analiza rasteniy [Methods of biochemical analysis of plants]. Kyiv: Naukova dumka. [in Russian]
Hrytsaienko, Z. M., Hrytsaienko, A. O., & Karpenko, V. P. (2003). Metody biolohichnykh ta ahrokhimichnykh doslidzhen roslyn i gruntiv [Methods of biological and agrochemical studies of plants and soils]. Kyiv: Nichlava. [in Ukrainian]
Pleshkov, B. P. (1985). Praktikum po biokhimii rasteniy [Workshop on plant biochemistry] (3rd ed., rev. ànd enl.). Moscow: Kolos. [in Russian]
Krishchenko, V. P. (1983). Metody otsenki kachestva rastitel'noy produktsii [Methods for assessing the quality of plant pro­ducts]. Moscow: Kolos. [in Russian]
Methods for determination of moisture, ash content, extractive and tannin materials, essential oil: State Standard (GOST) 24027.2-80. (1988). Moscow. [in Russian]
Chernogorod, L. B., & Vinogradov, B. A. (2006). Essential oils of some species of the genus Achillea L. containing fragranol. Rastitel'nye resursy [Plant Resources], 42(2), 61–68. [in Russian]
Berko, Y. (2008). Shoot types of mint family (Lamiaceae) species in Ukrainian flora and their ecobiomorphological characteristics. Pratsi Naukovoho tovarystva imehi Shevchenka [Proceedings of the Shevchenko Scientific Society], 23, 146–155. [in Ukrainian]
Skipor, O. B., Zolotilov, V. A., & Zolotilova, O. M. (2015). The dependence of the rooting of cuttings of lavender on the ti­ming of propagation and the age of the mother plants. Scientific Journal of KubSAU, 112(08). Retrieved from http://ej.kubagro.ru/2015/08/pdf/34.pdf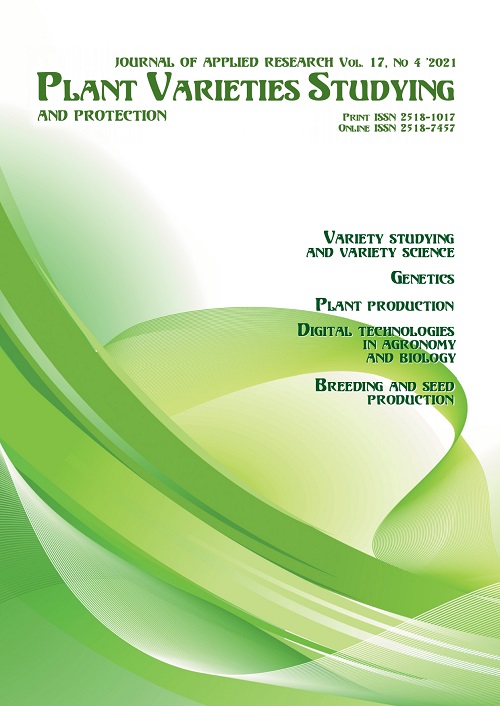 Downloads
How to Cite
Kotyuk, L., & Trofimova, A. V. (2021). Peculiarities of introduction of Lavandula vera D.C. into the culture in the Central Polissia of Ukraine. Plant Varieties Studying and Protection, 17(4), 282–289. https://doi.org/10.21498/2518-1017.17.4.2021.248997
Section
VARIETY STUDYING AND VARIETY SCIENCE
License
This work is licensed under a Creative Commons Attribution-ShareAlike 4.0 International License.
Our journal abides by the CREATIVE COMMONS copyright rights and permissions for open access journals.
Authors, who are published in this journal, agree to the following conditions:
1. The authors reserve the right to authorship of the work and pass the first publication right of this work to the journal under the terms of a Creative Commons Attribution License, which allows others to freely distribute the published research with the obligatory reference to the authors of the original work and the first publication of the work in this journal.
 2. The authors have the right to conclude separate supplement agreements that relate to non-exclusive work distribution in the form in which it has been published by the journal (for example, to upload the work to the online storage of the journal or publish it as part of a monograph), provided that the reference to the first publication of the work in this journal is included.