Past and present of apple variety studying
Keywords:
сортовивчення яблуні, Л. П. Симиренко, В. Л. Симиренко, скороплідні сорти, плоди високих товарних і смакових якостей
Abstract
The paper presents the history of domestic research on apple varieties. Outstanding Ukrainian horticulturists Lev Platonovych and Volodymyr Lvovych Symyrenko have played the leading role in its development. It is proved that the application of modern methods for researching peculiarities of apple tree growing and fruit-bearing on example of new scab-immune cultivars of Oryol breeding (Russia) enables to determine early-ripening varieties for Ukraine's Forest-Steppe. Those cultivars increase yield intensively during initial years of fruit-bearing and provide fruits of high marketing and taste qualities.
Downloads
Download data is not yet available.
References
Андрей Тимофеевич Болотов / 1738–1833/. Составитель И. В. Боровских. – М., 1988. – 87 с.
Помология: В 5-ти томах. Т. 1. Яблоня / Под общей ред. Е. Н. Седова. – Орел: Изд-во ВНИИСПК, 2005. – 576 с.
Рытов, М. В. Русские яблоки / М. В. Рытов. – М.: Сельхозиздат, 1960. – 497 с.
Пашкевич, В. В. Плодовое сортоведение или помология на новых началах / В. В. Пашкевич. – С. – Петербург: Издание А. Ф. Давриена, 1911. – 100 с.
Симиренко, Л. П. Помология. / Л. П. Симиренко. – К.: Изд-во Украинской академии с.-х наук, 1961. – Т. 1. – 579 с.
Симиренко, В. Л. Часткове сортознавство плодових рослин у двох томах. Яблуня / В. Л. Симиренко. – К.: Аграрна наука, 1995. – Т. 1. – 454 с.
Программа и методика сортоизучения плодовых, ягодных и орехоплодных культур / Под общей ред. Г. А. Лобанова. – Мичуринск: Изд-во ВНИИ садоводства им. И. В. Мичурина, 1973. – 492 с.
Программа и методика сортоизучения плодовых, ягодных и орехоплодных культур / Под общ. ред. Е. Н. Седова, Т. П. Огольцовой. – Орел: ВНИИСПК, 1999. – 608 с.
Методика державного випробування сортів рослин на придатність до поширення в Україні / Методика проведення експертизи сортів плодовоягідних, горіхоплідних культур та винограду. – К.: Алефа, 2005. – С. 161–232.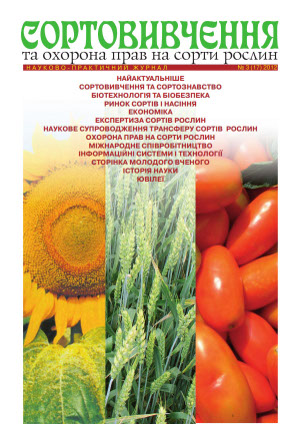 Downloads
How to Cite
Кондратенко, Т. Є. (2012). Past and present of apple variety studying. Plant Varieties Studying and Protection, (3(17), 82–87. https://doi.org/10.21498/2518-1017.3(17).2012.58845
Section
HISTORIY OF SCIENCE
License
Copyright (c) 2016 Plant varieties studying and protection
This work is licensed under a Creative Commons Attribution-ShareAlike 4.0 International License.
Our journal abides by the CREATIVE COMMONS copyright rights and permissions for open access journals.
Authors, who are published in this journal, agree to the following conditions:
1. The authors reserve the right to authorship of the work and pass the first publication right of this work to the journal under the terms of a Creative Commons Attribution License, which allows others to freely distribute the published research with the obligatory reference to the authors of the original work and the first publication of the work in this journal.
 2. The authors have the right to conclude separate supplement agreements that relate to non-exclusive work distribution in the form in which it has been published by the journal (for example, to upload the work to the online storage of the journal or publish it as part of a monograph), provided that the reference to the first publication of the work in this journal is included.