Synthetic varieties of winter rye (Secale cerecale L.)
Keywords:
жито озиме, комбінаційна здатність, сорт-синтетик, генетична кореляція, панміксія
Abstract
Possibility of heterosis effect approbation by using synthetic varieties of winter rye was discussed. Heterosis level of first five generation of rye synthetics did not decrease. Considerable yield decrease of winter rye grain took place in later generations. Concept of synthetic varieties of winter wheat creation in Ukraine is prospective, though it requires scientific, economical and legal improvement.
Downloads
Download data is not yet available.
References
Гончаренко, А. А. Пути повышения эффективности и результаты селекции озимой ржи в Центральном районе Нечерноземной зоны РСФСР: ав- тореф. дисс. докт. с.-х. наук. /А. А. Гончаренко // НИИСХ ЦРЧЗ - Немчино- вка Московской обл. -1984.-46 с.
Скорик, В. В. Генетичне вдосконалення методів селекції озимого жита (Se- cale cereale L.): автореф. дисс. на здобуття наук, ступня докт. с.-г. наук спец. 06.01.05. "Селекція рослин". / В. В. Скорик. - К., 1994. - 25 с.
Тороп, А. А. Направление, методы и результаты селекции озимой ржи в условиях Центральной черноземной зоны: автореф. дисс. докт. с.-х. наук. / A. А. Тороп // НИИСХ ЦРЧЗ - Немчиновка Московской обл. - 1993. - 23 с.
Худоерко, В. И. Важнейшие проблемы селекции, семеноводства и сортовой агротехники озимой ржи / B. И. Худоерко //Селекция и сортовая агротехника зерновых культур. - М: Колос- 1980,- С. 29-34.
Wellensiek S. J. De selective von roggen andere Kruisheruchyters // Meded ned Keuzigsdienstt land bow. en enrdpipodgoed. -1947. - Bd. 3.
Wellensiek S. J. The theoretical basis of the polycross test // Euphutica. - 1952. - No1.
Кедров-Зихман, О. О. Теоретическое рассмотрение поликросса как метода селекции синтетических популяций. / О. О. Кедров-Зихман. // Вопросы математической генетики. - Минск: Высш. школа, 1969. -170 с.
Селекція, насінництво та сортознавство пшениці. / В. В.Шелепов, М. М. Гаврилюк, М. П. Чебаков та ін. - Миронівка, 2007. - 410 с.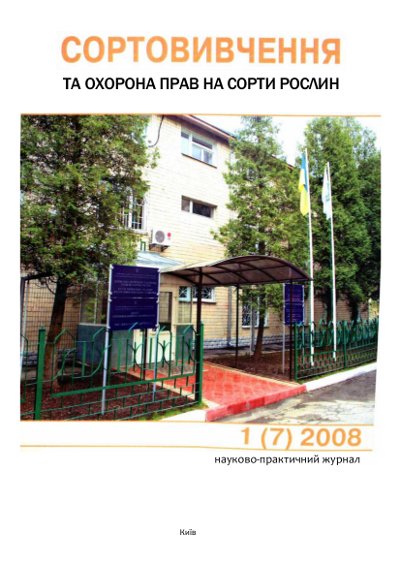 Downloads
How to Cite
Скорик, В. В., Скорик, В. В., Симоненко, Н. В., & Скорик, О. П. (2008). Synthetic varieties of winter rye (Secale cerecale L.). Plant Varieties Studying and Protection, (1(7), 5–8. https://doi.org/10.21498/2518-1017.1(7).2008.64051
Section
ЗДОБУТКИ ТА ПРОБЛЕМИ
License
Copyright (c) 2016 Plant varieties studying and protection
This work is licensed under a Creative Commons Attribution-ShareAlike 4.0 International License.
Our journal abides by the CREATIVE COMMONS copyright rights and permissions for open access journals.
Authors, who are published in this journal, agree to the following conditions:
1. The authors reserve the right to authorship of the work and pass the first publication right of this work to the journal under the terms of a Creative Commons Attribution License, which allows others to freely distribute the published research with the obligatory reference to the authors of the original work and the first publication of the work in this journal.
 2. The authors have the right to conclude separate supplement agreements that relate to non-exclusive work distribution in the form in which it has been published by the journal (for example, to upload the work to the online storage of the journal or publish it as part of a monograph), provided that the reference to the first publication of the work in this journal is included.